12. August 2020
"Sales Funnel": An overview of everything worth knowing
What is a Sales Funnel?
Potential customers who do not yet know your brand need a completely different approach than people who have been considering buying your product for a long time. But how do you deal with the different requirements — especially for online business? The answer is the sales funnel. It is an effective tool for optimizing the various stages of your sales process.
A sales funnel represents the marketing and sales process in the form of a funnel. It shows the journey of potential customers from the first contact to the conclusion of a sale, using concrete figures. It is of great importance because no marketing and sales process can be controlled without daily updated figures from your sales funnel.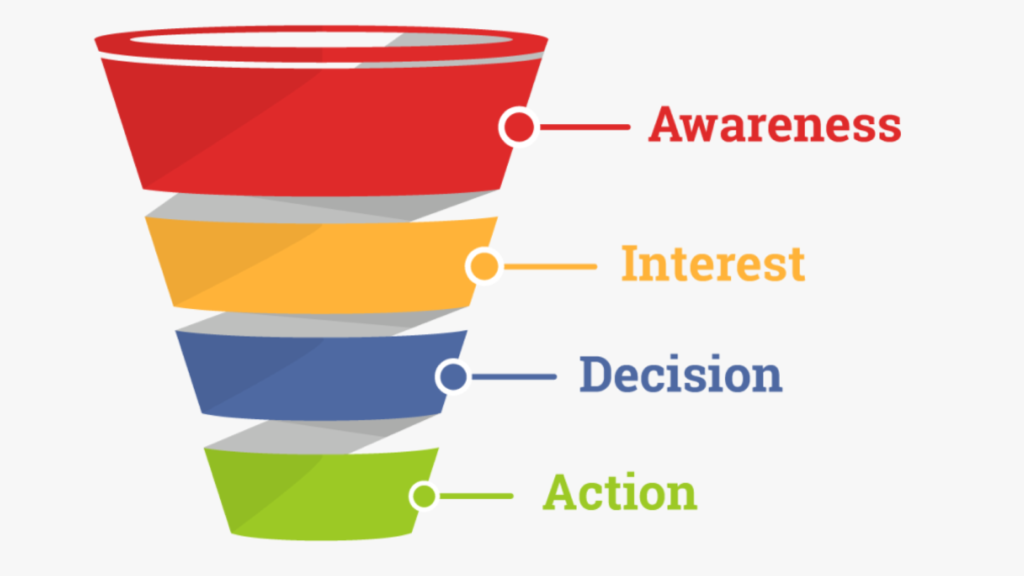 Even the most efficient sales funnel begins with the famous "Zero Moment of Truth" in the search engine: A potential customer has become aware of a product or service and now independently goes in search of further information. But it's not only potential new customers who use the internet around the clock. With marketing automation, companies can acquire new customers 24/7 or track their self-qualification and treat them accordingly. Such sales processes can be described with the help of the sales funnel model, but they can also be actively designed. This blog post shows how such a sales process may look and how marketing automation can create additional value.
The most important elements of a profitable online sales process
1. The lead profit
At the beginning of an online sales funnel (that's what we call a completed online sales process) it is all about gaining interested prospects (leads). For this purpose, visitors are drawn to your own websites via the various traffic sources. These visitors then become your own interested customers, when a benefit in the form of a so-called "lead profit" or "lead magnet" is offered to the lead. The name already indicates what this is all about: the generation of new leads, i.e., interested parties.
A lead profit is something that is made available to website visitors free of charge in exchange for their contact details (usually an email address). The crucial point here is not yet to try to win a customer, but to gain the interest of a prospective customer. Only very few people buy something directly from external sites, but they first want to explore the brand and its value proposition, and to assess them as trustworthy and valuable.
One important lead profit feature is its specificity, because it should address a specific customer segment in a specific market with a specific problem/need. Specificity is one of the most important principles in direct marketing. The more specific a proposition is, the more people feel that it is tailored to them. The lead profit must also provide a strong benefit for the prospective customer, because self-interest is one of the strongest human motivators for all kinds of action (including purchases). And only if a prospective customer sees a benefit for herself in a lead profit, will she leave her contact details in exchange. Our industry rarely uses this exchange. What form could a lead profit take in the hotel industry? Leave a comment in the post: I would be interested to hear how you see it.
2. The customer activator
After the lead profit comes the customer activator. The focus at this point is about turning the new prospect into a customer, because the customer has not yet bought anything. This also represents a change in their relationship with the company. The commitment that a prospective customer invests in a company should be strengthened by an initial purchase.
At this point it is therefore a question of generating an initial sale from the prospective customer you've acquired. The sales volume does not necessarily have to be high and can also be at a break-even point. This may sound unusual at first, but the focus is still on increasing the value of the individual customer. The actual profit is made in later processes in the sales funnel. After all, a customer activator is a low-priced offer for someone who has already shown interest in the previous lead profit. Therefore, the customer activator must have a strong relevance to the lead profit and also be very specific, because the weaker the connection between the two elements, the lower the conversion rate (sales rate) afterwards.
The point is to make an irresistible offer via the customer activator — one that activates an interested party to become a customer (hence the name). It's important to note that it is not only cheap offers and discounts that are relevant here. Be creative and think about how you can attract customers at a small sales volume. Remember, you have to convince the customer with performance they can expect after purchase. Also, make sure that your employees in operations know about the process and rationale, and do not see the customer as a "cheap" customer.
3. The main product
After selling the customer activator, the main product should be sold (and this is certainly what most entrepreneurs immediately think of when it comes to their sales). It is virtually the heart of every business. From this point onward in the sales funnel, it is a matter of making the real sales. The difference to ordinary sales processes, however, is that the main product is not sold directly at first, but is embedded in an entire online funnel.
By buying the main product, the relationship between the customer and the company also changes once again, because it becomes more intense. The first purchase of the customer activator has led to a second purchase — and thus, on a psychological level, the commitment to the company changes clearly once again .
4. The turnover maximizer
The next step is the turnover maximizer. We know this as an upsell. It is about securing a significant increase in revenue by offering another (usually more expensive) product after the sale of the main product. However, very few companies have such a turnover maximizer or upselling process: most send visitors directly to the main product and try to sell it immediately. However, in 99 out of 100 cases this does not work and it has even been proven that online visitors have to interact several times with a company's website or other communication channels before they feel ready to invest their money.
The highest profits are made in the turnover maximizer or upselling process, and therefore every company (or department in a hotel) should integrate one in its sales funnel. This can be done, for example, through a direct upsell, i.e., a direct second sale after the first purchase.
5. The reactivation
It can happen that customers become inactive over time and do not buy again. Then it is a matter of getting them back and reactivating them. There are various ways to do this, such as email marketing, content marketing, social media marketing, or pay-per-click marketing.
In online sales and marketing activities, the entrepreneur or company should pay close attention to all of these five elements and build them upon each other. Because at each individual level, the focus is on the three principles that ultimately make a company successful and guarantee multiple-digit online sales: winning more customers, multiplying the average transaction value of each individual customer, and increasing their transaction frequency.
This also means that minimal changes on a single level can cause significant positive changes in overall sales. A hotel is a complex of many departments with different customer needs. This also means there's great potential if we consider the business not only as a hotel, but also as a group of companies (hotel, restaurant, spa, event, etc.)
So what does all this have to do with the sales funnel?
On average, prospective customers require at least seven points of contact with a company before they buy. The customer journey model was developed precisely to understand these. The sales funnel was developed so that companies can understand, control, and optimize the contact points.
How to develop a sales funnel for your company
If you want to build or optimize your sales funnel, you should first familiarize yourself with the most important terms. To better illustrate the structure, we will take a look at the three sections of a simple sales funnel.
1. Top of Funnel (ToFu)
In the so-called "Top of the Funnel (ToFu)", the primary goal is to address a large audience by establishing initial contact with the largest possible number of potential customers.
The sale of a product or service is not yet the main focus. First and foremost, it is important to understand the needs of the target group. Therefore you should focus on marketing initiatives that increase reach and traffic.
2. Middle of the Funnel (MoFu)
In the "Middle of the Funnel (MoFu)" section, interested parties are filtered out, which leads to the first scatter loss of the funnel. Those persons who are not interested in your offer will leave the sales funnel at this point.
It is the task of marketing and sales to accompany the remaining interested parties in the sales funnel into the next phase. Therefore, concentrate primarily on lead generation in this area so that you can establish a relationship with potential customers via their contact data.
3. Bottom of the Funnel (BoFu)
In the "Bottom of the Funnel (BoFu)", the ultimate goal is to convert a portion of the leads won into paying customers. Here too, further scatter losses will occur, because not every lead will decide to buy.
At the end of the funnel, you should, therefore, concentrate on convincing the leads of your products and services and turning them into customers.
Why marketing and sales desperately need a joint sales funnel
Due to the special requirements of a fast-moving digital world, the control of the sales process must be based on real-time data. If you want to know whether you are achieving your sales target, you need more than just a look at incoming payments. Because when these no longer flow, it is much too late to cry out for help.
In the sales funnel you can see weeks or months in advance how new customer sales will develop. Especially in digital marketing, the sales funnel is crystal clear: if the number of visits decreases and fewer and fewer leads are generated, then the sales pipeline will very quickly be dry, and no more deals will be closed.
It is important that marketing and sales have the same view of the sales funnel. Then there will be no excuses. I even recommend that marketing and sales each undertake a service level agreement (SLA). For example, in an SLA, marketing may commit to delivering a certain number of leads and sales in return would assure a certain rate of processing leads. This is particularly useful in the events area or for corporate customer acquisition.
Why is an SLA necessary? If there is no such written commitment, it will always be the case that sales is not satisfied with the number and quality of leads delivered by marketing. Marketing, on the other hand, will always have doubts as to whether sales is really doing everything possible to win their hard-earned leads as customers.
In a survey conducted by TrackMaven, a marketing insights company, 90% of marketing and sales managers said that a lack of collaboration prevents them from achieving their goals. I can only confirm this from experience! When marketing and sales agree on a common funnel and manage it effectively, a major step toward collaboration and revenue growth is achieved.
Sources:
https://www.entrepreneur.com/article/296526
https://www.thinkwithgoogle.com/marketing-resources/micro-moments/2011-winning-zmot-ebook/